All images Copyright © Mike Johnson. All rights reserved.
Blue whale underwater topside | The World's Strangest Fish ? Ocean Sunfish | Suicidal Crabs? | Zooplankton 1, 2 | Sting and Stun: Rays | Mammals | Rock dwellers | Sand dwellers | Fossils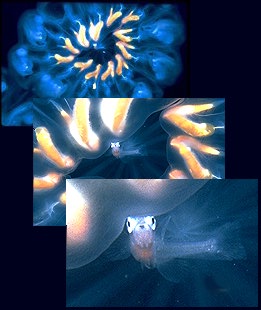 In the open sea, cover is scarce. Small fishes will often seek shelter in or near any available object, in this case, a colony of salps.
[ return to zooplankton ] [ return to index ]